By Peggy Taylor
"No matter who you are, you are welcome here. No matter who you are, you will find something in our programming that resonates with you," said Katherine Farley, Chair of the Board of Lincoln Center, at last Saturday's high noon ribbon cutting for the reopening of David Geffen Hall, the home of the New York Philharmonic. Joined by the philanthropists, architects, engineers, and government officials who made the Hall's rebirth possible, she reiterated the watchword now seen on the Hall's bus-shelter billboards — "The New York Philharmonic: A New Home. For Everyone."
Farley sent a special message of inclusion to Black and Hispanic New Yorkers, whose ancestors were driven from the Upper West Side when their neighborhood, San Juan Hill, was razed in the 1950's so that Lincoln Center might rise. The Center, once viewed as aloof from the surrounding neighborhoods, is now reaching out to those neighborhoods and acknowledging a more inclusive vision of the past.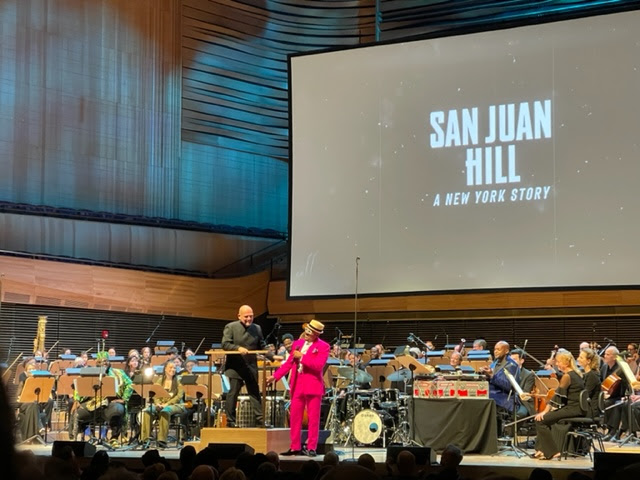 For the opening's inaugural musical work, Lincoln Center tapped Trinidadian trumpeter, pianist, percussionist, and professor Etienne Charles, who composed "San Juan Hill: A New York Story," featuring his Creole Soul Jazz Band and the Philharmonic. The work was accompanied by fascinating archival documents and visuals, the most memorable of which were photos of the streets of San Juan Hill superimposed on the same streets surrounding  Lincoln Center today.
At the ribbon cutting, U.S. Senator Majority Leader Chuck Schumer predicted that the new Hall will be "a huge shot in the arm for New York's cultural scene, for Lincoln Center, for the economy, and for the spirit and morale of our city." The pandemic, he recalled, was so difficult for New Yorkers because we were "not able to gather to share meaningful experiences like live concerts. Our cultural institutions are the lifeblood of this city. People want to be together. We want to mix and mingle and celebrate our enormous diversity."
Time will tell whether David Geffen Hall will succeed in its goals of welcome and outreach, but given the joyful crowds who attended Saturday's matinee and night performances and who mingled and lingered long afterwards, the new David Geffen Hall, Our New David Geffen Hall, is off to a brilliant start.